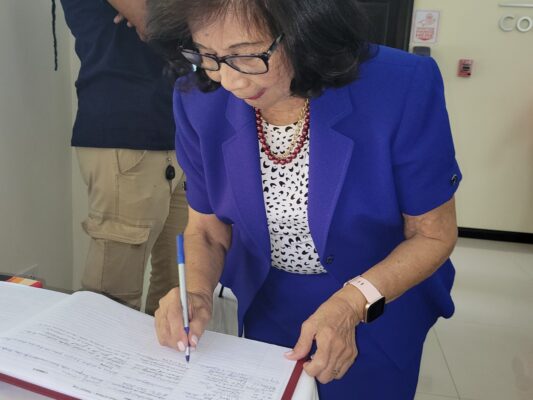 Prior to her week-long trip to Jamaica in late August, Patricia 'Miss Pat' Chin planned to get a lot done. She promoted her book, "Miss Pat: My Reggae Music Journey" as well as reached out to academia and institutions that played a major role in the development of Jamaican music. A project that was near and dear to her heart was providing financial assistance to the Alpha Institute in Kingston which has contributed significantly to the musical legacy of Jamaica.
It was mission accomplished, as the matriarch of Randy's Records and VP Records covered a lot of ground during the visit to her homeland. In Kingston, she launched her book at the University of the West Indies' Mona campus; donated copies to the National Library of Jamaica and Jamaica Library Service; did several signings at select locations throughout the country's capital and met and gifted copies of her book to several influential persons in the city.
A significant gesture was made at the Alpha Institute, formerly Alpha Boys Home, in central Kingston. That facility is the bedrock of Jamaican music, having produced numerous musicians who were pivotal to the development of ska, rock steady and reggae.
Miss Pat donated funds to Alpha that will cover the scholarships of two students of its music school — Teain Henry and Ashane Robertson.
Margaret Little Wilson, senior administrator at the Alpha School of Music, thanked Miss Pat and VP Records for their continued support.
"When you look around and you see the wonderful developments at Alpha and the start of the Alpha School of Music, we cannot forget that VP Records and the International Reggae Poster Contest were here in this very same spot when the courtyard was a dust-bowl, the walls were blank and students left the trade programme to an uncertain future. I am so proud that we are here today celebrating Alpha trade students whose future is looking bright, thanks to their hard work and the generous continued support of VP Records," she said.
Teain Henry, who will pursue an associate degree in music, entered the Alpha programme as a woodworker, but discovered his love for the saxophone and trombone through regular visits to the music department.
He was also gracious in thanking his benefactors.
"This scholarship means a lot to me because without it I would not know how to fund my education. The scholarship is a life-changer, to be honest. I am proud of what I have been able to accomplish so far at Alpha, especially when the Alpha band was awarded Most Improved Band at the Best School Band Competition. I want to keep improving and Alpha and VP are giving me a chance to do that. I am a proud Alpha School of Music student. Thank you!" Henry stated.
"Miss Pat: My Reggae Music Journey" was released in March, 2021 through VP Music Group. The 209-page, photo-filled memoir recalls her 64-year career in the music industry as a parent, wife and businesswoman. The book's primary focus is on how she — a first-generation Jamaican of Chinese and East Indian descent — and her husband Vincent built a small Mom and Pop venture into a multi-million-dollar empire.
With many of her contemporaries having passed, Miss Pat reiterated how important it is for her to tell the story of reggae's origins as chronicled in her book titled 'My Reggae Journey.'
The book was formally launched by Professor Donna Hope and Dr Dave Gosse of the Institute of Caribbean Studies, UWI along with Guest Speaker Professor Emerita Carolyn Cooper who paid glowing tribute to the distinguished author.
Written with Anicee Gaddis, John Masouri, Alex Lee and James 'Jazz' Goring, 'My Reggae Journey' spans six decades of music history. It records the rise and development of the famous Randy's Record Mart and Studio 17, both of which Miss Pat co-founded with her late husband Vincent 'Randy' Chin in downtown Kingston.
The book is designed by Greek artist Maria Papaefstathiou, co-founder of the international Reggae Poster Contest and features original illustrations by the late Michael 'Freestylee' Thompson and Papaefstathiou. Scores of never before seen photographs including artists and family photos are included in the book which is available in hard copy, a downloadable e-version as well as in audio book format narrated by icon Jamaican voice Fae Ellington.
Stream The Women of Reggae Playlist on Spotify: